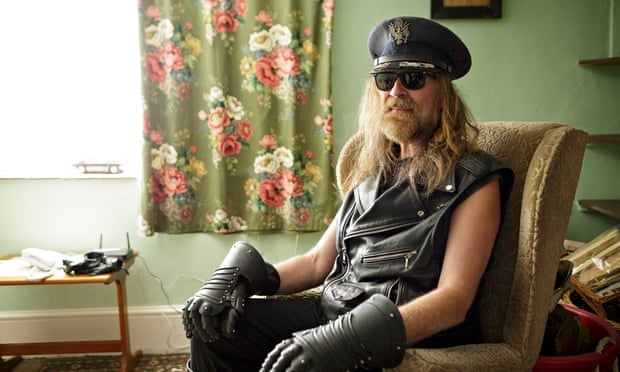 During the Poppy Bush Interzone, Julian Cope was another weirdo whom American college radio slotted between The Railway Children, Peter Murphy, and solo Ian McCullough. The British press liked him too, particularly the Select crowd, thanks to which I bought Jehovahkill.
He's forgotten now, the victim of what one memorably terse title called being out of his mind on dope and speed. Understand, though, that Cope was a loon anyway, part of a proud UK lineage from Edith Sitwell to Syd Barrett: a soi-disant Druid who mourned technological advancements and looked to Stonehenge as a source of ancient power. Most felicitously for record buyers, Cope had a terrific ear for hooks, more often than not translating his prayers and murmurs and incantations. 1991's Peggy Suicide actually topped CMJ charts, and the trifle "Charlotte Anne" the Modern Rock chart two years earlier. That album and Jehovahkill are minor classics and gateways: the latter's "The Subtle Energies Commission" unknowingly introduced me to Neu!
I stopped caring after 1994's cars-suck manifesto Autogeddon, and these days he looks like Tom Petty as a member of Judas Priest, but if you're new to his floored genius the following twenty songs should suffice. No Teardrop Explodes, though — I'm no expert. Perhaps sticking "World Shut Your Mouth" at the top of my list smacks of fear; compared to what followed "World" sounds reined in, as if Cope were experimenting with a manner. But those drums and electric strums don't let up; I'm especially taken with those shrieks, which might be the guitars or an organ, punctuating the verses. Unknown by me until a friend bought me a volume of MTV 120 Minutes on tape in late '91, it proved, yeah, another gateway. Dope and speed notwithstanding, Cope's message still resonates: put your head back in the clouds and shut your mouth. Self-deprecation and truth.
1. World Shut Your Mouth
2. Safesurfer
3. Upwards at 45 Degrees
4. Soul Desert
5. Drive She Said
6. The Subtle Energies Commission
7. Reynard the Fox
8. Charlotte Anne
9. Autogeddon Blues
10. Out of My Mind on Dope and Speed
11. East Easy Rider
12. An Elegant Chaos
13. Sunshine Playroom
14. Spacehopper
15. Hanging Out & Hung Up on the Line
16. Sunspots
17. Pristeen
18. Trampolene
19. Fear Loves This Place
20. Greatness and Perfection