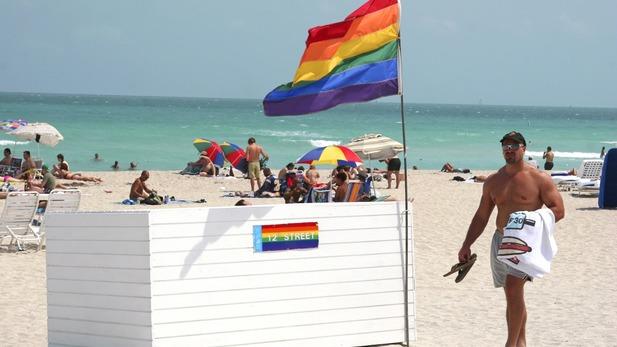 The scariest moment of my sexual life occurred fourteen years ago when an unknown male person tapped on the back window of my SUV when I was in it with my lover at the time. I don't know if he was a cop or passing stranger who — what exactly? Wanted to warn me? Was interested in joining? Acted like an asshole? I was aware that anyplace other than Miami this might have occasioned a beating. And in Miami it still does, as the fracas below details:

Surveillance video from the March 14th incident captured the fight take place as more than a dozen people waited in line to order food.

Miami Beach Police said the confrontation happened after Schaeffer and his partner, 25-year-old Eric Danko, engaged in a display of affection. The couple told police their kiss offended a man in a dark shirt and shorts, who confronted them and harassed them "using derogatory words."

"The subjects in this case happen to be gay individuals and that's part of our investigation to see what provoked that attack," explained Miami Beach police officer Ernesto Rodriguez.

That led to things getting physical and within moments, the men were wrestling on the restaurant floor.

"Had some sort of exchange with victims, a verbal exchange which escalated into a violent physical attack," Rodriguez said.
This happened last night, let me repeat, in Miami Beach, long the shorthand for "homo." the Whopper Bar a block from South Beach's longest standing gay bar. And this incident happened in Atlanta not long ago.
No matter how often I remind students that we South Florida gays have it good danger lurks everywhere, and rising sea levels got fuck all to do with it.