To honor Charlie Watts in death, please don't refer to him as The Greatest Rock Drummer. Fans know the praise embarrassed him — a routine for him, perhaps. I suspect he knew he was a damn good drummer. Playing with such brio since the early sixties adduced his immodesty. He went to work. Let Mick 'n' Keef and poor Brian Jones get the headlines with drug busts and tooth diamonds! His was the kind of immodesty disguised as insouciance, a disguise as complete as one of Shakespeare's cross-dressing heroines in his comedies. Perhaps a contemporary like Ginger Baker or Keith Moon would've smashed producer Jimmy Miller in the face with a pint of Boddington's had he showed them how to play the concluding rolls on a signature tune.
Flash forward a dozen years later. The mid-eighties were not good for him. Years of relative sobriety crumbled. He tried heroin. He doesn't appear on half of 1986's Dirty Work. When Ron Wood, who drummed (okayish) on a couple tracks, stepped away from the kit, Watts said, No, I can't get it right, you play it. When one of his unceasing attempts at trying to be The Cool Dad led Jagger to work with Dust Brothers drum loops on 1997's dire Bridges to Babylon, Watts didn't flinch. Had he known fans were watching he might've thrown them a bone in the form of his patented head or eye roll, as natural an expression as Jagger's pout and Richards' sepulchral leer.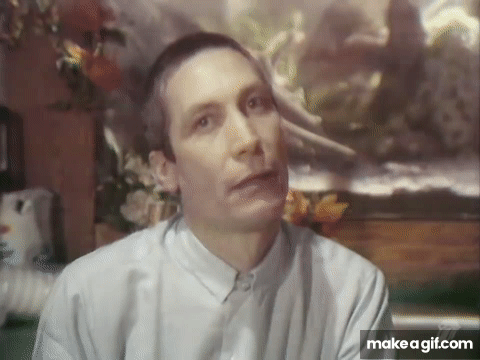 But consider: he might have been genuinely curious about the Dust Brothers in the way that secure people are in unfamiliar experiences. Also: secure enough to think, this too shall pass, mate. Mick in public went out of his way to create the impression he and Charlie were intimate like the press assumed he and Keith were; he made it clear the Stones would not tour unless Watts committed, then Watts, as a non-writing member of this two-headed global consortium, would demand this much money the corporation would have to match. He also collaborated, I should note, with Jagger on set design. Watts was the only Stones member — alive, dead, resigned — who scared Mick.
Immodesty not humility. Miller, a damn fine drummer himself, does not sound like Watts. Wood, a musician as charmingly profligate about learning instruments as he acquired friends and drug habits, didn't bother. Charlie Watts was singular.
In a band full of degenerates and egomaniacs, Watts was the least degenerate and egomaniacal. At the peak of his heroin addiction Keith Richards' guitar lost some of its precision, hence the use of Billy Preston and other instrumental gewgaws onstage; during this period Jagger, realizing no one was paying attention, treated consonants with such contempt his rounded vowels took the reins. Only Watts rewarded audiences with the professionalism he thought they deserved. Maybe he learned it over the years watching the jazz combos he was too immodest to think he preferred to the Stones. Jazz may have remained his first love: he learned his distinctive tempo and tricks from years of study and imitation. But the Stones were a bigger payday, perhaps a deeper passion that he was too shrewd to acknowledge. Because he was Charlie Watts, who like his more telegenic mates had an image he brushed as carefully as one of his Saville Row suits.
Herewith are ten of my favorite Charlie Watts performances on Stones singles. Readers will mourn the absence of "19th Nervous Breakdown," "Stray Cat Blues," "Monkey Man," "Bitch," "Tumbling Dice," others. Let me point them to deeper cuts alongside the too-obvious-to-ignore.
1. "Get Off Of My Cloud" (December's Children (And Everybody's), 1965)
Top of the list because it unnerves with a small explosion: the surprise drum roll two seconds in. And the wicked guitars of Keith Richard and Brian Jones keep up, slash away. By the end of this incomprehensible, glorious single, there is no cloud to get off of. The Stones trampled and burned it.
2. "The Under Assistant West Coast Promotion Man" (Out of Our Heads, 1965).
Pure swing, played a half second slower than another drummer might've, allowing Jagger and the harmonica to tell the story. Because Watts wasn't anyone else.
3."Honky Tonk Women" (single, 1969).
In what became a pattern during his interregnum as Stones producer, Jimmy Miller assisted with the percussion —  here, the cowbell everyone remembers, the sexiest percussive part in late '60s rock 'n' roll. The rest is Watts in excelsior: his kick drum fills in Jagger's vocal melody, proof of the singer's contention that Charlie, ahem, never took his eyes off him. The absence of volume variety in the hi-hat strokes creates a super-steady rhythm worth shaking to in the car or on the dance floor. As cool and fresh as newly opened beer, "Honky Tonk Women" heralded the Stones' next phase.
4. "Sway" (Sticky Fingers, 1971).
On an album replete with what would be another drummer's high points (i.e. the imperative one-twos concluding the first part of each verse melody in "Bitch"), "Sway" stands out for demonstrating Watts' uncanny instinct for understanding what a song requires. Mick wrote some bollocks about destroying a circular notion of time? No problem. He and Jagger, the latter playing steady electric rhythm guitar, lock into a groove as relentless and grinding as a truck rolling down a highway. I would've said "like a moonlight mile," but that's some other song.
5. "Hand of Fate" (Black and Blue, 1976).
An album-length exercise in guitar player auditions, Black and Blue bifurcates milky ballads and tentative funk-drenched rock workouts. The second track, in which for the sake of Jagger's story about having keeled a man Wayne Perkins turns his guitar into a werewolf's howl, boasts the peculiarity of Watts' technique; he hangs back a step, lets Richards and Perkins fill the space, turns his drums into stage spotlights. Then there are those sudden drum fills, proving Jimmy Miller wrong on "Tumbling Dice."
6. "Miss You" (Some Girls, 1978).
Intro kick drum, followed by a locked-in groove with a never nimbler Bill Wyman that remains the ne plus ultra of the rock-disco crossover hybrid. The hyphen's important: Watts listened to disco, transferred what he learned to a rock context.
7. "When the Whip Comes Down" (Some Girls, 1978).
On an LP whose players sound like they've given shots of bull's blood, Watts is the best in show. For Jagger's narrative about a hustler who's gay in New York but a fag in El Lay, Watts goads the singer into ever more hysterical stresses (is Jagger learning English with each chorus go-round?), ever more euphoric shrieks, until in the last third his snares and cymbals lash Jagger across the back. And Mick likes it. Whip it on me, Charlie.
8. "Summer Romance" (Emotional Rescue, 1980).
I've been doing my part to elevate the stature of this collection of castoffs. But the Stones released Some Girls castoffs — big difference. .38 Special might've given this first-class smut a shimmer and a strut; Watts' work and Jagger on crucial third guitar turn "Summer Romance" into a PG-rated "When the Whip Comes Down."
9. "Hold Back" (Dirty Work, 1986).
As noted earlier, Watts checked out and bottomed out during the recording of Dirty Work. Producer Steve Lillywhite, as if to compensate, swathes him with enough echo to sound as if the band were recording at the bottom of a drained Marianas Trench. The most impassioned of Jagger's confessions of cold opportunism (Joseph Stalin, c'est moi!), "Hold Back" honors its title in its closing minute, with Watts using fills that detonate like firecrackers around Wood and Richards' six-string snarls.
10. "Moon is Up" (Voodoo Lounge, 1994).
"If Charlie Watts is willing to experiment in the studio, then I'm the happiest man in the world," Keith Richards said at the time the Stones made Voodoo Lounge. As overstuffed as a Thanksgiving turkey, their second post-WWIII album is the kind of thing you pick at: a lick here, a harmony there. "Moon is Up" features a restrained Jagger complementing a frisky Watts, who plays a garbage can with brushes from a stairwell. The archetypal deep cut; I was delighted when Ralph Fiennes' saturnine impresario in A Bigger Splash (2015) raves about it.