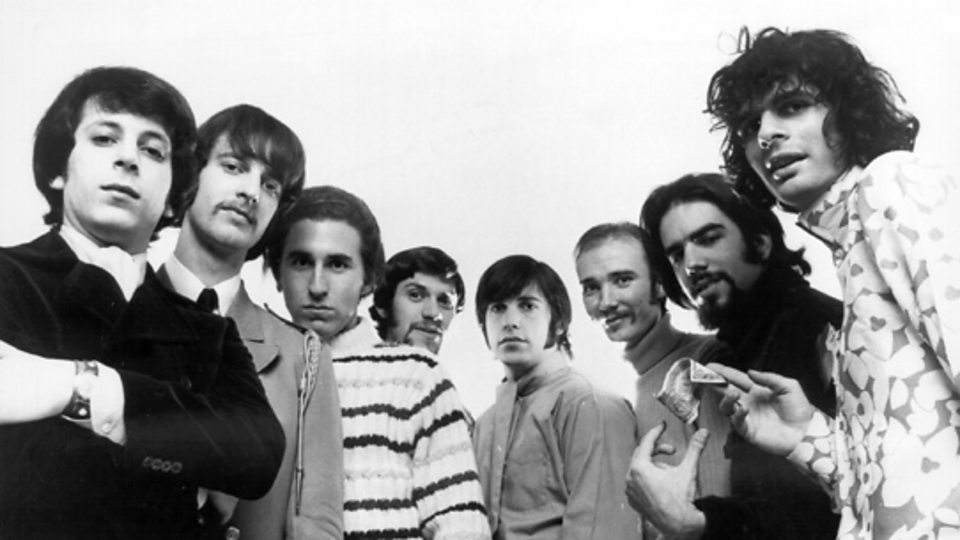 Like a good single, a terrible one reveals itself with airplay and forbearance. I don't want to hate songs; to do so would shake ever-sensitive follicles, and styling gel is expensive. I promise my readers that my list will when possible eschew obvious selections. Songs beloved by colleagues and songs to which I'm supposed to genuflect will get my full hurricane-force winds, but it doesn't mean that I won't take shots at a jukebox hero overplayed when I was at a college bar drinking a cranberry vodka in a plastic thimble-sized cup.
Blood Sweat & Tears – "Spinning Wheel"
PEAK CHART POSITION: #2 in July 1969
Because I wasn't even a zygote in my parents' mind in 1970, I'll rely on hearsay and readers when I posit that there remained more than a few people who thought rock needed sullying from jazz. Rock should be as complex harmonically and rhythmically as, to choose an example, what Miles Davis was doing with Nefertiti and Miles in the Sky. Originally comprising Al Kooper, Randy Brecker, Steve Katz, among other excellent sessioneers, Blood, Sweat & Tears' membership past and future would look like the credits to a Transformers movie. Listening to "Spinning Wheel" and the other smashes that have never left classic rock and easy listening stations is like watching a bodybuilder heretofore renowned for his power attempt to pick up a battleship.
A monster seller that won Album of the Year in 1970 (beating Abbey Road and fellow big-selling triplet Cosby, Stills & Nash's eponymous debut, among others, including Johnny Cash's At San Quentin!), Blood Sweat & Tears was a staple in any home that survived the sixties, as ubiquitous as Saturday Night Fever and Rumours would become. I'll be damned if I know why. BS&T achieved a rare paradox: ponderous lightness. Thousands of man hours they spent laboring over such determined ephemerality. Like their spiritual heir Sting, BS&T "incorporated," to use the hep term, Prokofiev. What a smorgasbord: tracks like "Variations on a Theme By Erik Satie" gesture toward the so-called prog rock that awaited its commercial moment, while "Blues – Part II" smushes Cream's "Sunshine of Your Love," Al Kooper's "Somethin' Goin' On," and, uh, Willie Dixon as an excuse to show how Koop's organ solos anticipate Keith Emerson's and how long drum solos were dire even in 1968. With its flute solo and discreet guitar and trumpet fills, Katz's "Sometime in Winter" would not have been out of place coming out of the throat of Andy Williams, but not before requesting a rewrite of the immortal "Makin' love in the evening sun."
Something for everybody then – Blood Sweat & Tears is the Walt Disney World of late sixties pop records! Unlike the mishmash of covers and "adaptations," "Spinning Wheel" came from the pen of singer David Clayton-Thomas, who sings as if he heard Stephen Stills for the first time on the way to the studio and crowned him Caruso. When dismissing Toto's "Roseanna" last week, I'll admit to not giving Jeff Porcaro the deserved obeisance; I will not shirk from praising Bobby Columby's work, in particular during a roughly fifteen-minute sequence when mixing board tricks distort Clayton-Thomas' voice for that psychedelic oogie-boogieness and Columby excuses a series of rolls over a horn chart, both toughening the Age of Aquarius folderol and quietly mocking it: if BS&T were invoking the spirit of jazz, it briefly visits during this sequence.
After another minute, the good will around "Spinning Wheel" fades like incense confronted by an open window. It becomes clear that the song exists to show off its horn charts; they get fussy, exigent in their demands. Perhaps Brecker and saxophonist Fred Lipisus got bored with waiting for Clayton-Thomas to stop barking about painted ponies; playing becomes a way of killing time.  "Spinning Wheel" sounds especially etiolated beside the era's other big-wheel-keep-on-turnin' hit, Creedence Clearwater Revival's "Proud Mary." Although not my favorite CCR song, its admixture of Motown concision and Delta blues remains damn impressive. "Spinning Wheel" by contrast is a Golden Oldies irritant, competition for their cover of Brenda Holloway's "You've Made Me So Very Happy."