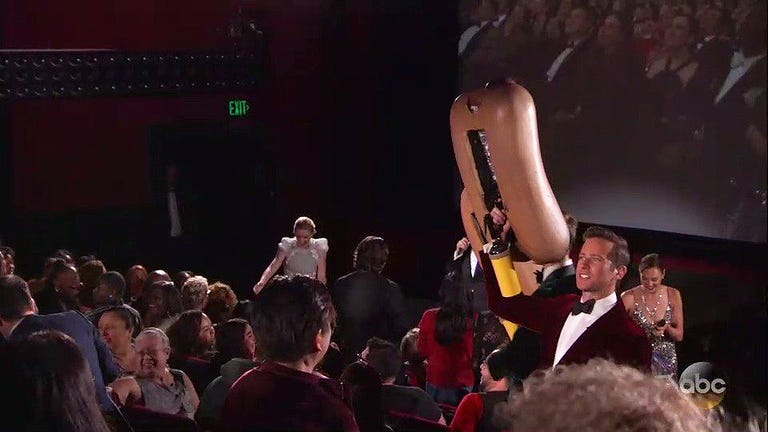 After mixing a second cocktail like I never do on school nights and blistering my fingertips, I endured an Oscar ceremony slightly less predictable than expected: the appearance of nonagenarian Eva Marie Saint, trim and still hardy with a grin and a quip, enlivened a somnolent evening even with the likes of Ansel Elgort and Armie Hammer shooting raw hot dogs at plebeians watching the show next door to the theater. My monkey wrench picks to win? They lost. The Academy decided an award to Jordan Peele and bowing before Guillermo del Toro's fish man movie was enough #woke for one night.
Before the ceremony A.S. Hamrah wrote a few amusing blurbs on last year's most acclaimed films. Here's a few:

THE POST
When National Public Radio warns you about one of their upcoming pledge drives, they play a spot asking "if you believe democracy requires a free press." Probably everyone listening believes that, but you never know. Steven Spielberg's The Post is the perfect movie for those listeners, and for potential viewers who haven't heard that newspapers, like NPR, need money to run.

The real story in this movie is how Daniel Ellsberg (Matthew Rhys) got the Pentagon Papers to Washington Post reporter Ben Bagdikian (Bob Odenkirk) so The Post could publish them along with The New York Times and help bring the Vietnam War to an end. Spielberg for some reason decided that part of the movie lacked drama, and made it a subplot. The Post concentrates instead on bosses. We are asked to worry about the conscience of Post editor Ben Bradlee (Tom Hanks) and the finances of publisher Katherine Graham (Meryl Streep) as her newspaper launches an IPO while she fiddles with her glasses.
CALL ME BY YOUR NAME
Call Me by Your Name's strength is that it really does seem like the character played by Timothée Chalamet made the film himself. Who else but an actual actor-director would end his film by staring tearfully into a fireplace in winter because he's realized he will always be separate from other human beings, even though he spent last summer having sex in Lombardy with two kind and very attractive people (Armie Hammer and Esther Garrel)? The first Sufjan Stevens song that interrupts the movie so we can concentrate on nature for a few minutes also indicates the hand of Chalamet's Elio at work, as he remembers how beautiful it was and how nothing hurt, before he found out on that last trip that Hammer's Oliver was going to start dancing in public to "Love My Way" again.
THE SHAPE OF WATER
Despite all the positive representation of marginalized people and the explicit condemnation of men who work for the government, the film takes a gleeful delight in torture and pain. Often morose, it livens up when Shannon is tasering the fishman or engaged in bloodletting and beatings. It is a kind of horror movie, it's true, but those scenes overpower the film's invocation of desperate forbidden love.
Onward to 2018!