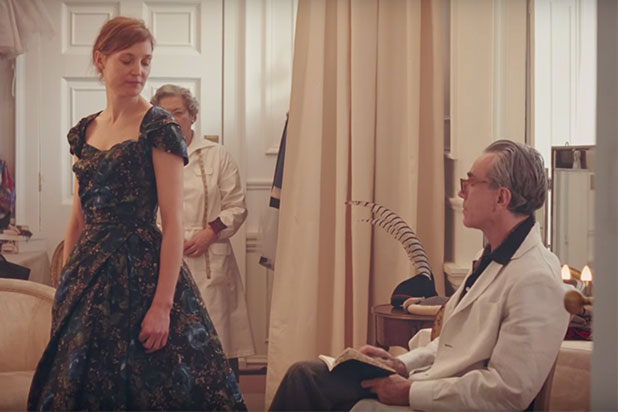 Finally — a film in which a seduced woman is required to put on more clothes instead of taking them off. If Reynolds Woodcock is the seducer, then an interest in sex is secondary. A tailor who approaches his profession with the rigor of a poet and the devotion of an ascetic, the absurdly named Woodcock sees women as mannequins — exquisite ones, to be sure. Movies about obsessives fail when the movies dishonor the obsessives' passion or don't limn the depths of the obsession, which isn't the same as sympathizing with the obsessives. Phantom Thread doesn't. In a filmography devoted to men who, to quote Robert Frost, have made their vocation and avocation one, Paul Thomas Anderson scores a particular triumph with this study of the dressmaker who meets his match with model/wife Alma (Vicky Krieps). This is a film of exquisite control and minute calibrations, and Anderson's best.
There is more than a touch of Rebecca in Anderson's film. Instead of Alfred Hitchcock's shadows, Anderson, working as his own cinematographer, finds new tints in whites and grays. Like Terence Davies' A Quiet Passion, Phantom Thread offers a past that has the texture of felt experience, or, better, as a person in the past blessed with imagination would have conceived of his or her own time. At an indeterminate moment in 1950s England, Woodcock directs a phalanx of seamstresses in his East London townhouse as they fulfill the wishes of Lady This and Countess That. The film's Mrs. Danvers is his sister Cyril (Lesley Manville), who does the books and acts as a one-woman Praetorian Guard, especially about distractions such as the mewlings of girlfriends who want more from him than he's willing to expend on anything that isn't made of fabric (a consolation prize: she lets the jilted ones keep one of his dresses). At a country hotel on holiday Woodcock smiles benignly as a waitress named Alma (Vicky Krieps) memorizes his sumptuous breakfast order: Welsh rarebit, with a poached egg on top — not too runny — bacon, scones, butter, cream, jam (hey, I had to write it down); behind the dreamy expression the audience has come to know while Woodcock sketches dress ideas with a fountain pain is a sharp appraiser's eye. He takes her home – and begins to dress her up. First amused, then flattered, and, frankly, turned on, Alma humors him in a self-possessed manner. "Whatever you do, do it carefully," she warns him.
This is one way of putting it.  At first the relationship isn't particularly sexual, and when it is she makes the first move. Hushed but as tense as a bear trap ready to spring, Phantom Thread sympathizes with Woodcock's rigor and his need to be cosseted. Anderson's camera rhapsodizes the staircase separating private and public chambers as if he were Max Ophuls, and as Alma insists on infiltrating herself  – she talks through breakfasts and scrapes butter on toast with the subtlety of an elephant cracking walnuts – male viewers may experience the shock of familiarity. Countless works of literature have taken for granted that men need space to create, to work; women, angels in the house, invade these spaces with their complaints. And Anderson, whose The Master and Punch Drunk Love and There Will Be Blood examine the extremes if not the psychoses of Intense Men, might have made a movie in which Alma, acquiescing to Woodcock's need to conserve his energy for his designs, accommodates herself to the demands of the house, perhaps rules it with Cyril side by side.
But Anderson instead has made a more fascinating film. Stubborn and in love with Woodcock, Alma decides to break him. The result is a study of two obstinate people who become a couple after she has brought Woodcock to his knees – until, without my giving away a thing about the plot, he has defiled one of his own dresses. In this way Alma even establishes her mastery over Cyril. The result is a third act whose mordant humor tonally complicates a production notable for its almost clammy precision (Woodcock might have directed Phantom Thread). No one in the theater laughed as hard as I did when Woodcock murmurs, "Kiss me, my girl, before I'm sick again." Memes, here we come.
The performances are gradated, cumulative in impact. What a treat to see Daniel Day-Lewis looking much like himself. He weighs his words as carefully as Woodcock fingers needle and thread, a blessing when uttering Anderson's more florid dialogue like "There is an air of quiet death in this house" (I expect that sort of thing from one of Woody Allen's dessicated Bergman pastiches). He's even more effective when conveying one of Woodcock's sudden storms of rage, which require a rapier-like use of "fuck." Manville, a veteran of Mike Leigh films, is the opposite: as Cyril, the quieter the voice, the graver the threat. But Krieps, a newcomer to me, is the most indelible presence. Anderson exploits the tension between her rather wan screen presence and the steeliness with which she issues threats and commands (a German accent from the Luxembourg-born Krieps helps).
But if one name deserves special mention, it's costumer designer Mark Bridges. Anderson should have mimicked Orson Welles and shared credit in the title cards. The transition from the deprivations of the war years to a minimal economic security manifested itself in the display of luxury; it was a relief. Anderson used Cristóbal Balenciaga as inspiration. To my untrained eye, the dresses are fine if traditional: lots of velvet and capes and lace. But that's the point too: Woodcock's devotion to a dying religion is admirable and pathetic. Trends are changing. He loathes the idea of chic. "Filthy little word," he growls. How Woodcock will deal with Mary Quant deserves its own film.
GRADE: A-