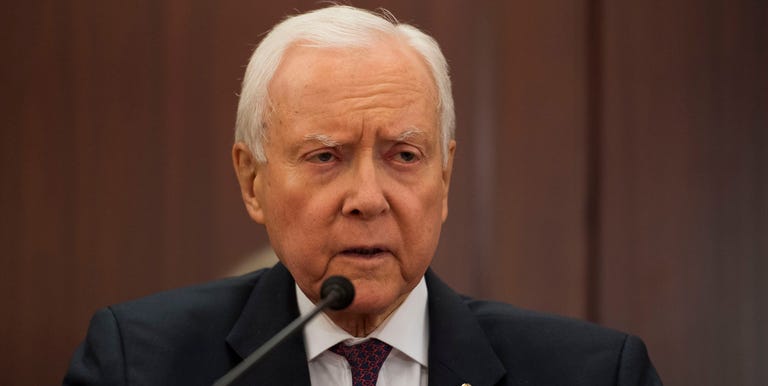 In John Nichols' scathing epitaph for the career of Orrin Hatch as Utah senator, I learned about Frank Moss, whom Hatch beat in the late seventies at the start of his tenure. This FDR Democrat was partially responsible for the 1966 Cigarette Labeling and Advertising Act, the Toy Safety Act and the Poison Prevention Packaging Act, and led "investigations of elder abuse," among other examples of liberal dynamism. Hatch was not Frank Moss:
Over the next four decades, Hatch would serve as a dramatically different senator from his predecessor. Self-absorbed and boastful, Hatch calculated that his political future would be best served by aligning with those who could write big campaign checks. Hatch took care of his political benefactors and seemed always to be plotting his next move (angling for a place on the Supreme Court or on a Republican presidential ticket, elbowing his way into key committee assignments). When Democrats controlled the Senate, Hatch was ready to cut deals, even with liberals like Massachusetts Senator Edward Kennedy.
My introduction to Orrin Hatch was auspicious: a mouse-haired white dude instructing colleagues on the Senate Judiciary Committee that Anita Hill, who had accused Supreme Court nominee Clarence Thomas of sexually harassing her, had plagiarized bits of her testimony from, I swear, The Exorcist."They didn't think we would find those references," the old buzzard said. "She didn't bring those instances up when she was interviewed by the FBI. But she brought them up with the committee. It's too contrived, too slick." Congratulations, senator (you can watch the grisly moment here). Later he mellowed: Hill "talked herself into believing what she said," words he never used about Ronald Reagan and the missiles that members of his NSC sold to Iran. As late as 2010 Hatch insisted apologies were owed – that is, Anita Hill to Clarence Thomas.
A charlatan who purports to understand equal justice under the law and stoops to the level of a third-rate demagogue in a Kiwanis meeting, Hatch is attracted to the soapbox like a dog to vomit. Most recently he sparred with Sherrod Brown when the Ohio senator correctly accused Hatch and his ilk of obsessing over tax cuts for the rich. "Bull crap," Hatch thundered, the miffed gentility of his response the plumage on a ridiculous hat. Utah is well rid of him – until its citizens elect the same purloiner of the public trust.