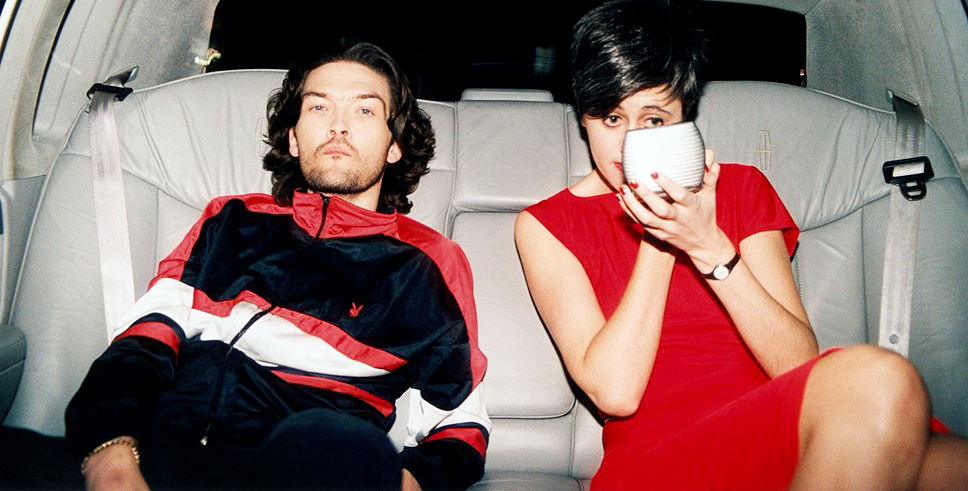 "Tracey Thorn has always been one of those singers who sounded dandy on other people's records, notably Massive Attack's," Robert Christgau wrote at the dawn of the 2000s, and he was right. But for a critic who has admitted to preferring livelier and noisier pleasures the implied condescension of the praise is no surprise.
The last sentence in his blurb — collected, mind, in an appendix to 1990s Consumer Guide collection, not in a full appraisal — praises she and Everything But the Girl for being "realer than Sade." A singer-songwriter first and last whose strengths are spare, ghostly narratives with an eye like Lydia Davis' for the vestigial detail, Thorn would take "realer" as description not criticism, for Sade's accretion of instrumental virtuosity conjures humors in the medieval sense; Sade don't populate scenarios, although they can (thirteen years later, ).
I love Tracey Thorn and Ben Watt because they write smart songs that exploit whatever trend their omnivorousness chooses to taste. In the early eighties their appetites nipped on the fag ends of Paul Weller's Mod fixations before eyeing sophisti-pop and turning to a largely enervating gustation on smooth jazz. Commercial fortunes waning, they stripped to lightly electronic sound for 1994's Amplified Heart, an album that reversed the usual polarities about couples reording songs about and to each other. Where Shoot Out the Bright Lights used Richard and Linda Thompson's musical sympathies to illustrate how a couple breaks apart, Watt and Thorn turned to R&B totems Cecil and Linda Womack, beloved in England for 1988's "Teardrops" but unheralded by American white people. Thanks to reinforcing harmonies and an intricate, innovative call-and-response electronic rhythmic syncopation, 1983's Love Wars and 1988's Conscience showed how a couple work out a life around and despite recriminations — "we walk the same line," to use Thorn's as usual on-target lyric, was the maxim (Thompson himself pops up to offer sympathetic and characteristically pungent accompaniment to Watt's haunted "25th December").
But 1996's Walking Wounded I embraced without hesitation. Released at the apex of Britpop and EBTG's own American chart fortunes (a remix of "Missing" peaked at #2 and rode the Hot 100 for the better part of a year). Of course it wasn't jungle — that's what Spring Heel Jack and Goldie and A Guy Called Gerald were for. But as the good magpies they were Watt and Thorn used the genre's inherent percussive paradox — skittery beats at impossible BPMs and tissue-thin — to approximate the anxieties of a workaday couple who wonder if the partner walking out the door is going to meet a rival, or whether a missed phone call augurs something dreadful. Walking Wounded did well critically, but I wonder if its laxative smoothness worked against it too; there was a sense in which Watt and Thorn, survivors in every sense (Watt almost died of a rare gastric ailment), affected the fellow traveler bit too well (don't forget: Spring Heel Jack collaborate with the pair on "Big Deal"). Then and now I hear it as an antidote to the omnipresence of the male voice in British music during New Labour; the epicene highness of Watt's harmonies and the way in which they dare to engage a woman at close range is a subtle, perfect rebuke. As their Springsteen and Lauper covers suggest, having conversations with rock totems is an EBTG fascination. 1986's "Me and Bobbie D" is a conversation between Thorn and Dylan in which the former, anticipating a quarter century's reappraisal of patriarchy, wags a finger at the genius who beat his wife and doesn't mind his kids. Walking Wounded is the Rumours of my generation — with a happy ending.
Not much was heard from EBTG after Temperamental, a boxy and hemmed-in but in retrospect excellent, pained take on deep house. It suited my mood in 1999. Out and ready for a broken heart, "Lullaby of Clubland" and "Future of the Future" nailed what it's like to be at a club after 1 a.m. as the alcohol and drugs are hitting but the sense of self remains. Thorn's 2007 and 2010 solo albums are evidence that her melodies, keen eye, and sympathetic voice remain intact. And like Christgau said she still sounds dandy on other people's records. Have you heard Jens Lekman's Life Will See You Now? She appears as a spirit of pity in "Hotwire the Ferris Wheeler." We need her, man. We need her more than ever.
1. Wrong
2. Protection (Tracey Thorn w/Massive Attack)
3. We Walk the Same Line
4. Lullaby of Clubland
5. Big Deal
6. Troubled Mind
7. Oxford Street
8. Sugar Finney
9. Tougher Than the Rest
10. Mirrorball
11. The Future of the Future
12. Single
13. Temperamental
14. Me and Bobbie D
15. Apron Strings
16. My Baby Don't Love Me
17. Fascination
18. Blame
19. Missing
20. Five Fathoms