With over one hundred thirty feature and short films on the program, this year's Miami Film Festival is a boon to local cineastes. The latest pictures by François Ozon, Jean-Pierre and Luc Dardennes, and Xavier Dolan make their South Florida debuts – and, in some cases, American debuts. In my second full year covering the festival, I've seen only a fraction of its offerings, a couple of which at least I'll remember in December.
Below is the first part of my coverage. Join me on Saturday afternoon at 3 p.m. for my introduction to Harmonium.
———-
Harmonium
Director: Kôji Fukada
Time and place: 3/4, MDC's Tower Theater, 3 p.m.
Wallace Stevens named his first collection of poetry after the organ small enough to keep in a foyer – an ideal musical instrument for a middle class home with certain ideas of order. In Kôji Fukada's Jury Prize winnner at 2016's Cannes Film Festival, young Hotaru (Momone Shinokawa) practices every morning; indeed, the first shot captures Hotaru, back to camera, coaxing notes out of the keyboard. She can't keep the disharmony from her household, though: breakfast with her parents is a tense affair, as unacknokwledged tensions keep exchanges between mother Akie (Mariko Tsutsui) and father Toshio (Kanji Furutachi) at a minimum. Then old friend Yasaka (Tadanobu Asano), having finished a prison sentence, wanders into Toshio's garage machine shop seeking employment. The alacrity with with Toshio accepts the offer alarms Akie, who has to get used to a stranger sitting at the table and, worse, giving Hotaru lessons on the harmonium.
To explain what ensues matters less than appreciating Fukada's exquisite sense of timing and release, the precision of his compositions, the po-faced manner in which he delineates horror. The religious Akie, so Catholic that their home sports a stained glass window, is fascinated by Yasaka, who is much better and much worse than expected. The last half hour of Harmonium is the most powerful I've seen this year – an act of revenge by amateurs that goes terribly wrong.
———-
Handsome Devil
Director: John Butler
Time and place: 3/4, Regal 18, 6:30 p.m.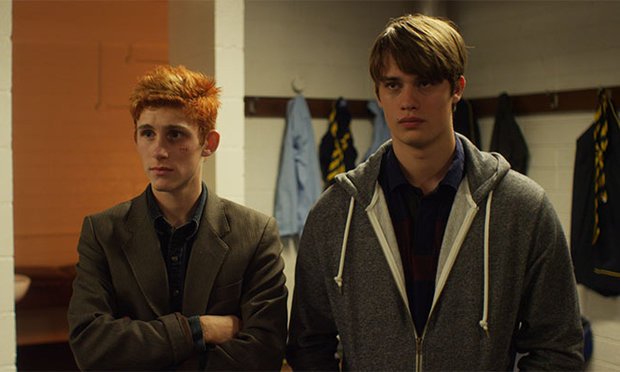 The straight guy projects sexual ambivalence, and the gay one is way too straight acting – that's one problem with taking Handsome Devil seriously. A worse one is a hysterial assemblage of devices (voice-over, split screens, slo-mo) for the purpose of defibrillating the mustiest of concepts: the budding homosexual nerd infatuated with the straight athlete. Fionn O'Shea plays red-headed Ned, who contrary to his secondary school's instincts loathes rugby; Nicholas Galitzine plays Conor, Ned's new roommate. Wary of contact, Ned erects what he calls a Berlin Wall between their beds as if daring Conor to breach it. John Butler's film also has a tormentor and the evil coach obsessed with winning who gets his comeuppance before the credits roll. Tying it all together is a national essay writing competition in which Conor hopes to, guess what, Tell The Truth.
Oblivious to its own familiarity, Handsome Devil is so desperate for affection that it's like a kitten leaving a dead pigeon at the front door. Butler's overwrought style is its own distancing device; few things grate so much as failed cleverness. Most of the time I couldn't tell when the film was set – perhaps the use of Prefab Sprout and Bowie posters were clues. Handsome Devil does have a virtue: a gem of a performance by Andrew Scott as their English lit teacher, a gay man himself who has put up with too much shit in his lifetime from enemies, athletes or otherwise, to stand for any more.
———-
Frantz
Director: François Ozon
Time and place: 3/4, Regal 17, 4 p.m.
Imagining François Ozon helming a serious picture is like imagining Roy Andersson directing a Hunger Games project. Nevertheless, this adaptation of Ernst Lubitsch's Broken Lullaby, itself based on Maurice Rostand's play The Man I Killed, boasts few of the camp touches that have distinguished the French writer-director's work since the late nineties. For gravitas, he and cinematographer Pascal Marti even shot Frantz in black and white.
Set in the aftermath of 1919's Treaty of Versailles when the Allied powers saddled a humiliated Germany with billions in reparations, Frantz tells the story of how a mysterious Frenchman who shows up at the grave of a dead German soldier causes the grieving fiancee Anna (Paula Beer) and his parents to rethink their animosities. The man is Adrien, played by Yves Saint Laurent's Pierre Niney as an aquiline Toby Maguire, with a superb mustache to boot. A violinist with a fey manner, Adrien first charms then spooks Anna with anecdotes about his friendship with Frantz Hoffmeister (Anton von Lucke, in flashbacks): how they talked about art in museums beneath the shadow of Edouard Manet's Le Suicidé , for example. Quickly he wears down the Hoffmeister's resistance; his father, a doctor and burgher type who looks like one of the Mann brothers, evolves from "Every French man is my son's murderer" to "Don't be afraid to make us happy."
Often bored by following through on the questions raised in his films, the prolific Ozon may assume he'll answer them in a future project, released, inevitably, a few months later. By focusing on Anna's pain and growing attraction, Frantz eroticizes material whose political context was already fraught (Lubitsch released Broken Lullaby a mere fourteen years after Versailles). The film's heart beats in the last third: a delicate, gently placed sequence in which Anna traces Adrien's journey back to Paris. At a concert, finding the Manet painting, meeting amused and wary relatives, Anna has to figure out her feelings before suspicions catch up with her. The excellent Beer, giving one of the strongest performances in an Ozon film to date, makes this pain believable. The dead communing with the living (while Anna reads a letter aloud, Ozon double tracks the dead Frantz's voice with Adrien's); the homoerotic overtones in the relationships between soldiers, about which we know much thanks to the poetry of Wilfred Owen; the allegiances the living owe the dead — Frantz explores them with grace. And when Ozon switches from black and white to color in the final sequence the gesture feels earned.