Soon I'll mention my favorite films of 2016; I'm still catching up, but at some point I have to acknowledge I can't catch every bumper (I'm glad I waited for The Other Side, though, and I watch Silence and rewatch 20th Century Women and Toni Erdmann this week). The following list of 2016's biggest disappointments or most execrable failures acknowledges I don't watch many blockbusters. Besides, I don't see much point in mentioning an obvious stink bomb. The movies that deserve mention are the most larded with complimentary intensifiers. What four of my five picks have in common is a reliance on at times startling command of form that doesn't obscure so much as accentuate a moral complacency.
Jackie, dir. Pablo Larraín
I know the audience is supposed to leave thinking that the story of good King Kennedy and the Knights of Camelot was a campfire tale spun by a grieving but devious widow to credulous journalists who disliked LBJ's choice of suits and obvious flimflammery; but we still get a movie about good King Kennedy and the Knights of Camelot. Intelligent lighting and an inapposite score aside, Jackie is a sarcophagus in which the mythos clinging to the most absurd political dynasty in modern American history is allowed slow rot. As for Natalie Portman, I can't do better than Nick Pinkerton's obit.
Nocturnal Animals, dir. Tom Ford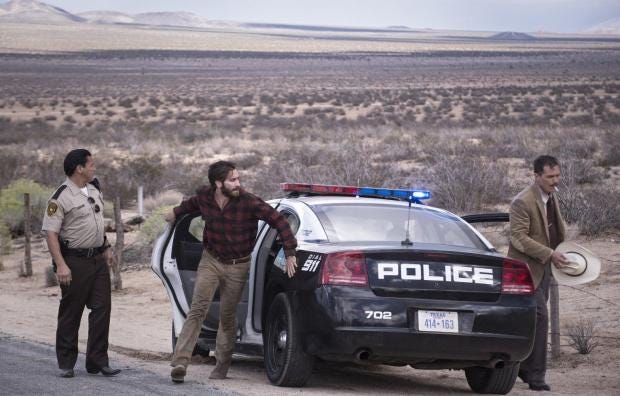 From my December review: Tom Ford's adaptation of Austin Wright's Tony & Susan, about the owner of a gallery whose dead marriage and empty life get a jolt while reading her ex's book, is what you might expect from a director who knows about glamour and nothing about art. Based on Jena Malone and Amy Adams' costumes, I have my doubts about the former too.
The Neon Demon, dir. Nicholas Winding Refn
From my June review: Abjuring realistic narrative in the last fifteen minutes for a series of gruesome, expert montages and tableaux, [Nicholas Winding] Refn shows a rhythmic command that would be more impressive if it served material that didn't expect the audience to go gaga over his supposed perversions. He's like the guy in high school who told me his dog once made him hard. Whether I said, "I'm gonna call the cops" or "Gee, that's cool" the trap was set — he was daring me to react. Andy Warhol isn't cited much these days, I suspect because film and, more crucially for the former magazine illustrator, advertising have long absorbed his ethos: the affect-free, cryogenic motionlessness. These diamond dogs were civilized. The Neon Demon would rather be defined by what it fails to do than what it purports to give an impression about. To give an impression, to give a shit, after all, would cloud the sheen of Refn's film. The Neon Demon is more accomplished than Only God Forgives, the 2013 farrago that should've gotten Refn sent alongside Henry Kissinger to The Hague for human rights violations. But it's a gold-dusted trap, a stylized nothing, and I'm sure audiences will reject it. For all his distancing devices, The Neon Demon presents a series of well-dressed and attractive women who, to a symphony of yawns, get hurt. That it's women hurting women instead of men is supposed to be progress in 2016.
X-Men: Apocalypyse, dir. Bryan Singer
Marvel movies in the 2010s are TV westerns in the early sixties: interchangeable and innocuous, fit for passive viewing. There's a difference between the latter and a film written, directed, and acted as if it were a tax write-off. It's possible to praise Oscar Isaac's acumen: so well-hidden is he beneath the blue paint that he can claim he was never in the movie.
The Birth of a Nation, dir. Nate Parker
Don't worry: I hated this film despite what Nate Parker may or may not have done offscreen. "Repeatedly in The Birth of a Nation, Nate Parker aestheticizes violence, avoiding nuance as if it were a snake in the road," I wrote in October. "This account of Nat Turner's slave rebellion is the kind of thing about which audiences will resort to the word 'powerful' without much liking it — unless they're fans of the vigilante pictures in whose lineage Parker's film belongs.