* Appropriate Behavior, dir. Desiree Akhavan.
Desiree Akhavan, working from her own script, plays a young woman of Persian descent who hasn't explained to her family that she's bisexual, despite having broken up with a girlfriend. This whirling comedy of embarrassment displays a healthy sense of self-parody, and after years of lugubrious gay coming out pictures Appropriate Behavior, from its title on down, is a rebuke.
* Results, dir. Andrew Bujalski.
From my June review: Filmmakers approach the world of fitness and health as if it were a poisonous snake in the road. Think Perfect, the John Travolta-Jamie Lee Curtis stinker from 1985. Results works. Andrew Bujalski, who helmed Computer Chess, is so low key about setting up jokes and situations that in the first hour Results plays like a mid nineties comedy: 40-watt Nicole Holofcener. Then it clicks in a thirty-minute denouement, a miracle of possibilities going from missed to realized, a series of cues picked up.
* In the Name of My Daughter, dir. André Téchiné.
Releasing in the last decade with little fanfare the best films of his career, André Téchiné has such a light, darting touch that on first viewing his themes don't connect; it's as if he doesn't give a damn whether you get them. This movie based on a true story about a Riviera casino mogul (Catherine Deneuve) outmaneuvered by her daughter and the daughter's lover pushes nothing but suggests much. As usual with Téchiné sunlight, hills, air, and beaches aren't setting — they're characters.
* Timbuktu, dir. Abderrahmane Sissako.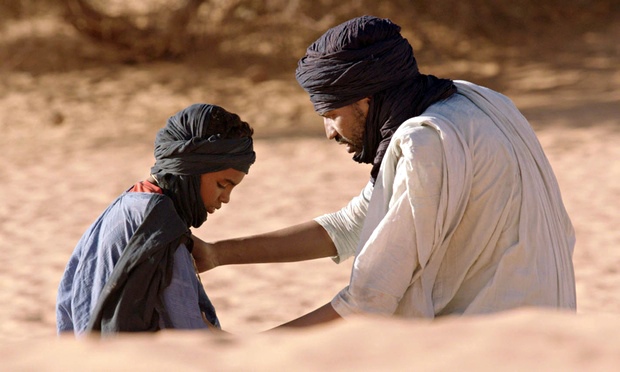 In the Timbuktu depicted in Abderrahamne Sissako's film, dogmatism comes in the form of neighbors, the people whom you once trusted. Petty rivalries turn rancorous when poverty, guns, and religion mix.The centerpiece is a confrontation between Kidane (Ibrahim Ahmed) and the fisherman who speared one of Kidane's cows to death. As Kidane and the assailant wrestle in the river a rifle report crackles. For a few seconds it's unclear who's been shot – if anyone's been shot. Sissako observes the happenings in extreme long shot, the characters captured amid the immensity of Mali's desert. A bravura piece of filmmaking, evoking Kiarostami and Paul Bowles, and typical of Sissako's approach.