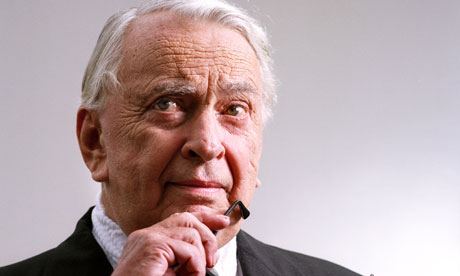 The battleship-sized novels were stacked at the bookstore entrance surrounded by Clive Cussler, John Jakes, and other remaindered items, like Nixon, Ford, and Carter on a plane together. How the American public he spent decades insulting bought Gore Vidal's historical novels in such quantities is a mystery only if you remind yourself that James Michener too wrote fat books like Alaskanamed after nation-states. By the late eighties Vidal, banished from the medium he had done much to revitalize and to which he had contributed in its early days, wasn't seen much on TV. He was A Name. The attacks on September 11 reintroduced him to an audience that by this point in history minded not a bit the Harsh Truths, scoldings, and addled conspiracy theories if they amused (most of us can stomach Oliver Stone's JFK thanks to Donald Sutherland and the trio of death's head homosexualists cast as villains). The independent bookstore at which I worked in the early 2000′s sold hundreds of copies of Perpetual War For Perpetual Peace. Restocking The Four Agreements and other New Age texts with numbered guides to happiness and photos of their white typists who looked like Danielle Steele, I'd glance at the formidable essay collection United States.
Because Gore Vidal conceived himself as the United States. A patrician and scion, at once satrap and iconoclast. Not for Vee-dal the cloistered life of idol Henry Adams, the acerbic jabs known only to a coterie but refreshed by looking out his window and watching the president enter the White House. He was closer to Oscar Wilde in the obvious and not so obvious ways; the bon mots ("As one ages, litigation replaces sex") threaten to remain his legacy, the curiosities of an age when men and women "dined out" and were duly rewarded. But he didn't congeal into bete noir Truman Capote, the pet monkey of Nancy Reagan and Betsy Bloomingdale. He never stopped writing. Although I discovered him too late, his influence was subtle and lapped at distant shores. Adams, Lincoln, and Italo Calvino, of course, but also Dawn Powell. In his eighties a career resuscitation of James Purdy led to one of the few essays that described how disgusting, strange, and marvelous his novels were. To describe with the stern appraising eye of a jeweler was a critic's capital responsibility, which is why Vidal admired so few: George Saintsbury, Edmund Wilson, V.S. Prichett, and Gore Vidal. He confirmed biases: more than ever the Grand Old Party "isn't a party at all, it's a mindset," yuk yuk, but also the merit of William Dean Howells, Orson Welles, and Edith Wharton.
Reading the domestically set historical fiction, augustly titled "American Chronicles," I was struck by how closely they adhered to the record, and it speaks to the perscipacity of Vidal's research that today it's no insight to call Thomas Jefferson devious or to dispute that American participation in the Great War was a blood-soaked folly orchestrated by a silver-tongued demagogue named Woodrow Wilson. Lincoln remains his apex, a novel devoted to its subject's wit, chill, mystery, and mystical obsession with the Union – and thus the grand architect of the American Empire. It's also, it should go without saying, a damn funny book. All of them are. As usual the obituary writers get him wrong. If the novels "fail" because they read like essays, then perhaps fiction has severed ties with its essayistic past (Milan Kundera and to some extent the late David Foster Wallace haven't). Vidal made a grim, grand fetish of the act of severing: the United States had severed itself from its origins as a backwater republic; Americans had severed themselves from their own history and literature. Self-pity, however well modulated, will color an obsession with entropy. It was his flaw. Thus, every essay collection, if not every essay, presses, like an asp against the chest, the fact of our illiteracy. "To speak today of a famous novelist is like speaking of a famous cabinetmaker or speedboat designer. Adjective is inappropriate to noun," he wrote once, and wrote, and wrote. Palimpsest, the memoir that is to my eyes his most invaluable book, boasts a surfeit of exchanges and duels with other writers whom Vidal assures us no one will read in – ten, twenty years? The number changed. Also trysts: young men seduced by Jack Kerouac's example need to know how Vidal did just that to the Beat icon, even persuading him to bottom.
The continued acceptance of homosexuality in public life owes something to Vidal's shrugging approach to it. The inevitable sentimentalizing of the love that dared not speak its name, however, disgusted him, I think. The man who boasted a companion of fifty years in Howard Austen thought gay marriage was a bunch of bullshit. The idea that "homosexual" is an adjective instead of a noun still offends gay and women to whom I've mentioned it. They miss the point. More people would dabble in a same-sex tryst or three if they didn't think a clinical label would attach itself to their Facebook biographies. Intimacy with the work of Montaigne and Diderot convinced him we were still animals, and animals like to fuck. And fuck each other over. That's what made life delicious, especially if you had the resources to watch the spectacle and contribute to it.
Insouciance as a sensibility – this was what Gore Vidal taught me. Not as aim though – we know the cliché about trying to be funny. Because he understood that wit, which is the soul of insouciance, demands constant replenishment from observation and curiosity, the novels and essays and TV appearances are deeply serious accountings of the world that show up deeply serious pundits and politicians as prigs and pachyderms. The most poignant aspect of Vidal's evaluations of our culture is its self-cannibalization. Only Gore Vidal could condemn our age; now Gore Vidal is gone. Meanwhile the age persists.