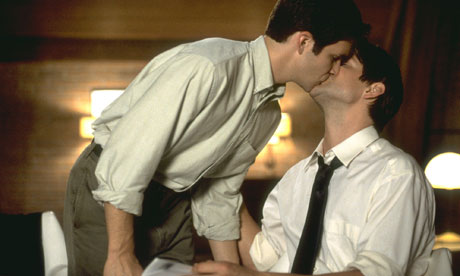 When I came out in the summer of '99 the reactions from friends ranged from mild elation to indifference. They'd understood the truth months before I did (only one friend, a mild and quasi-closeted bisexual, got indignant). My family came later. But the animus that newly out homosexuals face was not my experience. I responded with such enthusiasm to Franz Ferdinand's "Michael" because for the last four years, including before the 2003's Lawrence v. Texas decision, I'd been dancing with straight boys whose sticky lips and stubble on my own sticky lips I got, no mediation required. Believing gay marriage an impossibility did not lessen the reality of my gayness.
Mark Joseph Stern traces the collapse of the disgust for gay marriage. He asks if "coherent justifications for anti-gay policies could possibly exist in a post-Lawrence landscape":

The answer, it turns out, is that there are none—none, at least, that aren't driven by animus. A review of the failed attempts here is instructive. At various points, conservatives argued that every child deserves a mom and a dad; that gay people simply make inferior parents; that marriage isn't marriage without penile-vaginal penetration; that legalizing gay marriage would lower birth rates; and, best of all, that somehow, allowing gay people to get married would cause more straight people to have children out of wedlock.
Honesty would undermine the constitutionality of the opposition's argument:

In developing them, anti-gay activists began with a conclusion—gay people don't deserve the rights that we straight people have—then worked backward, camouflaging each prejudiced premise with a supposedly neutral talking point. Under any kind of scrutiny, these theories instantly fall apart, revealing their bigoted, constitutionally impermissible core.
In 2014 I welcome their hate.